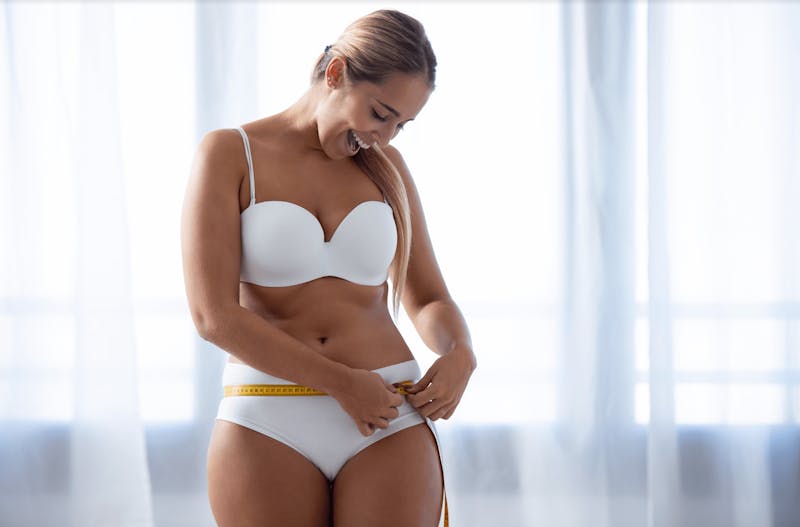 How Many Inches Can I Lose With Body Sculpting Treatment?
Dr. Eric Barker | 04/30/2022
Some areas of fat are simply resistant to traditional diet and exercise. EMSCULPT NEO at Peak Plastic Surgery Center involves HIFEM+ (high-intensity focused electromagnetic) and radiofrequency energy to burn excess fat and tone muscle at the same time.
Patients want to know how many inches they can lose with EMSCULPT NEO®, and there is no definite answer since each person responds differently to the treatment. However, plastic surgeon Dr. Eric Barker does estimate a 30% fat reduction in areas like the abdomen, buttocks, arms, and calves.
Do you want to learn about EMSCULPT NEO and how our team creates contoured results? Schedule a body sculpting consultation in Denver, CO. We can provide a more detailed estimate of your expected results after a thorough evaluation.
Who benefits from EMSCULPT NEO?
No matter how many hours a person spends at the gym, there are almost always problem areas that don't respond to diet or exercise. EMSCULPT NEO is for men and women in good shape who want to remove small amounts of excess fat while improving muscle tone.
The ideal EMSCULPT NEO candidate is:
At or near their goal weight: EMSCULPT NEO is not designed for weight loss. Before beginning treatment, you should be within 10 - 15 pounds of your goal weight.

Healthy and free from major medical conditions: While EMSCULPT NEO is safe for most people, it is always best to be in good health before body sculpting.

Realistic about results: EMSCULPT NEO can help with fat reduction and muscle enhancement, but it is not a replacement for cosmetic procedures, like liposuction.
How does EMSCULPT NEO work?
An EMSCULPT NEO appointment takes about 30 minutes at our office in Denver, CO. During that time, Dr. Barker glides a simple handpiece over one or more treatment areas. We release HIFEM+ energy to enhance muscle tone and radiofrequency energy for gradual fat reduction. The process does not cause pain, and most patients feel a warming sensation in the treatment area. We recommend scheduling 4-8 sessions for optimal results.
How many inches will I lose after treatment?
It is hard to estimate how many inches you will lose prior to EMSCULPT NEO. Factors like age, weight, and current body composition all play a role in your final outcomes. However, EMSCULPT NEO is known to reduce excess fat in targeted treatment areas by about 30%. Peak Plastic Surgery Center can also increase muscle by 25% on average.
A consultation is the best time to learn more about EMSCULPT NEO, the treatment process, and your expected outcomes. Dr. Barker is an expert in body sculpting procedures and can provide personalized recommendations for your unique goals.
When will I see contoured results?
Patients see some initial results within several days of treatment. However, the most noticeable outcomes occur about 2-4 weeks later as your body naturally processes the fat cells and builds new muscle. Results should also continue to improve over time. Peak Plastic Surgery Center reminds patients that their outcomes are long-lasting if they maintain a healthy lifestyle with regular exercise and a balanced diet.
Lose fat and gain muscle with EMSCULPT NEO
Many people work hard to stay in shape, but traditional methods may not be enough. If you are interested in body sculpting with EMSCULPT NEO, meet with plastic surgeon Dr. Eric Barker in Denver, CO. Our trained staff at Peak Plastic Surgery Center can ensure your candidacy and help you understand what to expect in terms of results.