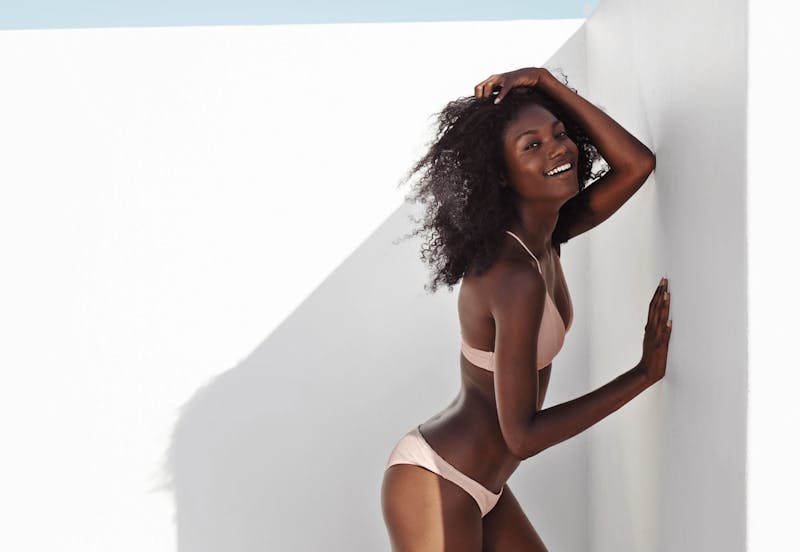 Areas to Sculpt on the Body With VASER® Liposuction
Dr. Eric Barker | 03/27/2022
Traditional liposuction is a popular way to contour different areas of the body and reduce fat that is resistant to diet and exercise. VASER liposuction uses ultrasound waves to disrupt fat cells while keeping the subcutaneous framework in place, so they may be removed in a much less invasive manner as compared to traditional liposuction. This innovative body sculpting technology allows for a smoother contoured result and also provides skin tightening benefits as well.
Many areas can be addressed with VASER liposuction, and plastic surgeon Dr. Eric Barker has helped countless patients remove stubborn fat from the stomach, hips, waist, back, arms, thighs, knees, and chin. Each one presents its own unique benefits and results. Today, the professionals at Peak Plastic Surgery Center in Denver, CO take a close look at all potential treatment areas and will give an in-depth explanation to each patient so they can understand what to expect from this cutting-edge procedure.
How does VASER liposuction work?
VASER liposuction is a minimally invasive fat removal procedure that uses ultrasonic frequency energy to break up fat cells while maintaining the subcutaneous tissue framework. Because of this, the treatment is less traumatic to the surrounding tissues than traditional liposuction, which means patients appreciate the faster healing times and a much smoother and contoured result. The ultrasound technology also tightens mild to moderate loose skin that can occur after events like weight loss or childbirth.
Some benefits of VASER liposuction include:
Minimally invasive: less trauma to surrounding tissues

Faster healing times: return to work and other activities sooner

Less pain and bruising: due to the decreased local disruption to tissues, postoperative discomfort and bruising are significantly decreased

Tightens skin: improve the appearance of mild to moderate skin laxity
What areas can be treated with VASER liposuction?
Dr. Barker is a skilled plastic surgeon who can treat many areas of the body through VASER liposuction in Denver, CO.
Most common areas include:
Stomach: VASER liposuction can help patients achieve a flatter tummy by removing excess fat from the midsection.

Flanks (Waist, Hips, Back): Contouring the flanks can give patients a more defined waist and make their silhouette look more proportionate.

Thighs (including knees): Reducing the size of thighs is a common goal for many patients. VASER liposuction can contour the thighs/legs for a slimmer appearance.

Arms: Reducing the size of the upper arms and giving a much more contoured appearance to the underside of the arm

Chin: By treating the tissues and removal of fat from the chin area, a much more defined jawline and decreased "double chin" can be expected
Can I treat more than one area at once?
Patients should attend a consultation at Peak Plastic Surgery Center before making any decisions about treatment. Dr. Barker will assess your goals and formulate a personalized plan for the most effective body sculpting results possible. In most cases, patients can treat multiple areas during the same procedure.
How do I make results last?
The most effective way to ensure long-lasting results from VASER liposuction is to maintain a healthy lifestyle through eating a well-balanced diet and exercising regularly. Our staff can provide detailed instructions about taking care of your body after surgery.
Sculpt your body with VASER liposuction
Excess fat in the stomach, flanks, thighs, arms and chin areas can be difficult to remove through traditional methods alone. If you are unhappy with your contour and want to learn more about VASER liposuction in Denver, CO, contact Peak Plastic Surgery Center and meet with plastic surgeon Dr. Eric Barker. We are experts in body sculpting and are dedicated to helping our patients achieve the best possible results.