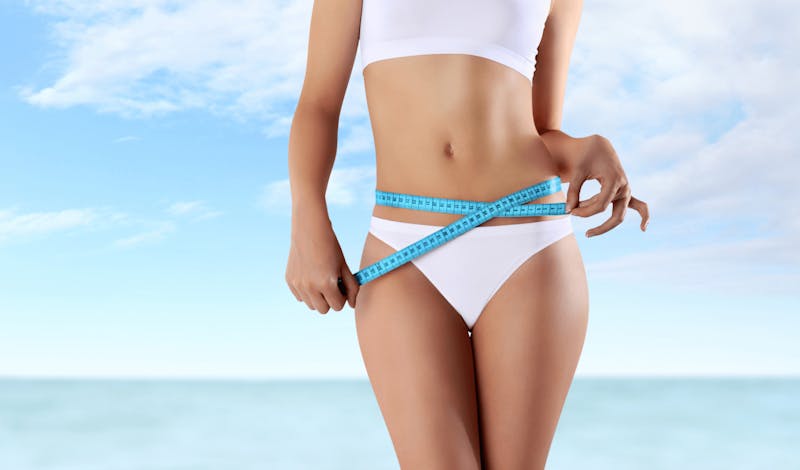 Dr. Eric Barker | 02/18/2021
Everyone wants to look and feel their best before swimsuit season hits. Even if you exercise regularly and eat healthy meals, most traditional weight loss programs cannot treat loose or hanging skin on the abdomen. Peak Plastic Surgery Center can help you restore your confidence with tummy tuck surgery in Denver, CO. Learn how to get ready for bikini season with plastic surgeon Dr. Eric Barker and schedule your tummy tuck consultation today.
Tummy tuck surgery explained
So, how do we get loose skin on our abdomens in the first place? For many women, pregnancy often causes the abdominal skin to stretch out more than normal. The extra tissue left behind after pregnancy hangs around our midsection and will not always go back to its original position. Rapid or extreme weight loss can also lead to excess skin.
Even with a healthy diet and regular exercise, tummy tuck surgery, or abdominoplasty, may be the only way to smooth out your stomach in time for bikini season. To get the desired effect, we perform excess skin removal while the remaining skin is stretched over the abdomen. Lax or loose abdominal muscles are also tightened in the process. Liposuction may be employed to treat small pockets of fat in the area. During your body contouring assessment with Dr. Barker, we can discuss exactly what will go into your custom surgical plan.
Benefits of body contouring surgery
There are many reasons why people pursue tummy tuck surgery before summer officially starts. The team at Peak Plastic Surgery Center in Denver, CO can help enhance your appearance and health in a number of unexpected ways:
Firmer tummy: Having a flatter stomach means your favorite outfits, like swimsuits, will fit better. Patients who undergo abdominoplasty report a rise in confidence and self-esteem during the summer months.

Improved posture: Excess skin is heavy, which changes our posture and draws our bodies forward. Removing this skin can sometimes help patients straighten their spines and improve their posture.

Make exercise more comfortable: Excess abdominal skin can cause discomfort when exercising or performing certain motions. Tummy tuck surgery makes activities, like beach yoga or swimming, far more enjoyable.
What size can I wear after excess skin removal?
Some people decide to have abdominoplasty to enhance body contours and wear a smaller size swimsuit. While it is possible to go down a size or more as a result of this procedure, this is not always guaranteed. It depends on the amount of excess skin involved as well as your cosmetic goals. During your personalized consultation with Dr. Barker, we can perform an assessment and let you know what kind of slimmer results to expect from excess skin removal.
Get bikini body ready!
Summer is the best time to celebrate all kinds of beach bodies. If traditional weight loss methods have failed to address loose or hanging skin on your belly, call Peak Plastic Surgery Center to learn about body contouring surgery. A tummy tuck can refresh your appearance and help you feel positive about your curves again. Dr. Eric Barker can create a custom treatment plan when you visit our clinic in Denver, CO. Rest assured we can help you get ready for the summer.